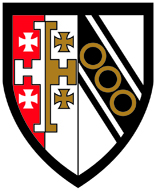 Anthony has been commissioned by Selwyn College to produce bespoke items of jewellery.
Cufflinks bearing the college crest are available to order now in sterling silver, 9ct and 18ct gold. Prices start at £249.
£120 from each sale goes to support students at Selwyn College.
Please note: In order to guarantee delivery before graduation, orders must be placed before 10th May 2018.